Kittea x The Project J: Soul Care Kit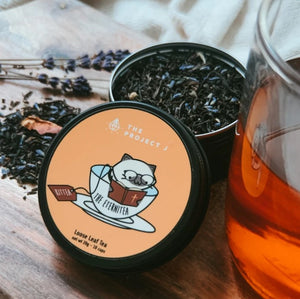 Product image 1

Product image 2

Product image 3

Product image 4
Product image 5
Product image 6
Product image 7
We've teamed up with The Project J for this very special Soul Care gift set! 
Set includes: 
1 Thrive Journal in Pacific Teal 
1 Conqueror Gift Card Set
1 limited edition The EterniTea 20g loose leaf tea tin, good for brewing up to 10 cups of tea.
The EterniTea 
Mellow black earl grey tea layered with soft rose, lavender and bergamot. The EterniTea is a purrfect blend to accompany us in our quiet times and remind us of the One thing that's of eternal value.
Thrive Journal 
Rebuild and reinforce your emotional and mental health this season with the Thrive Journal. This resource encourages you to take the time to know yourself, and cultivate the habit of introspection and self-affirmation. Take stock of your day, encourage yourself, track your habits, moods, sleep cycles, and water intake. It's never too late to love yourself well and invest in YOU!

Content:
- Introduction & Guide to Thrive Journal
- Note to Self: Write a short letter to yourself
- Habits Tracker
- Gratitude Tracker
- Take Stock of Your Day (3 months)
- Space for Reflection and Doodling
Size: 13cm x 19cm
Cover: Soft PU Leather in Pacific Teal, Rounded Corners, Rose Gold Hotstamp
Binding: Thread Sewn
Paper Type: 100gsm, Woodfree, Uncoated
Pages: 208 Pages
Back Pocket: Yes
Ribbon: Black